You Make Us The Most Valued Place in Town
2013 was a year the library came to where you live, work and play. The library brought computers, printers, job training and other programs into the Shawnee County Parks and Recreation's community centers . "It's great to see cooperation between two family-focused entities," one customer remarked.
We've been creative and vigilant about providing more access to the library.
Your library is open 7 days a week, 78 hours a week. Bookmobiles run six days a week, and we're open 24/7 at tscpl.org. We even put books on the Topeka Metro buses for the first time ever! Isn't it convenient that in this day and age you no longer have to come to the library to use it — though many people still do. Almost 800,000 people visited the library to borrow, to learn, to meet, to work and to relax. The library transforms children's lives, and our redesigned Kids Library is a testament to that and to our goal that every child in Topeka and Shawnee County will be ready for kindergarten. Attractions like the Tyrannosaurus Rex, solar system, school bus and an octupus-wrapped aquarium ensure family visits spark a desire in kids to return again and again.
Why is the library valuable? Ask the 85,697 folks who are card-carrying members. We serve people from all walks of life, and so the value they get from using their card varies — from learning a new computer skill to finding the perfect bedtime story for the kids. Private philanthropy helps future-proof the library, but the bottom line is tax money keeps our lights on and doors open. For every tax dollar spent, the library provided a $2 return, with an estimated $30 million value provided to our community in 2013.
Through thoughtful decision-making, the library is positioned to continue its success in serving the community when and where you need us. Two exciting developments for 2014 are a new way to check out using RFID and yes, even more librarians going where you want them. Last but certainly not least, one goal I hope everyone supports is this: a library card for every resident in Shawnee County — now that would be a really awesome year! But 2013's story certainly has its share of awesomeness — not total domination awesomeness, but a lot to be proud of.
— Gina Millsap
A Transformed
Kids Library
A functional Youth Services department was transformed into an engaging place for kids in 2013, through the help of The Library Foundation, a creative team of library professionals and an awesome fabricator from North Carolina that installed the biggest guy in this place, the Tyrannosaurus Rex.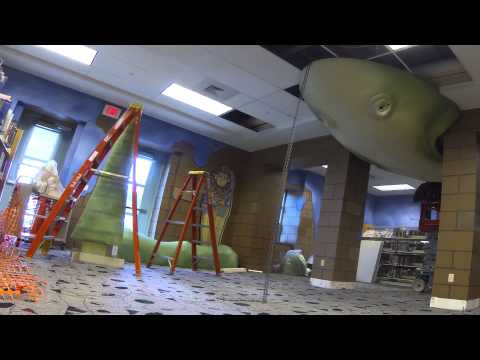 The Kids Library Grand Opening was held October 12, 2013 with more than 300 visitors enjoying performances by Paul Spring, Beth Horner and the library band throughout the day. Did children and families respond to the change? You betcha.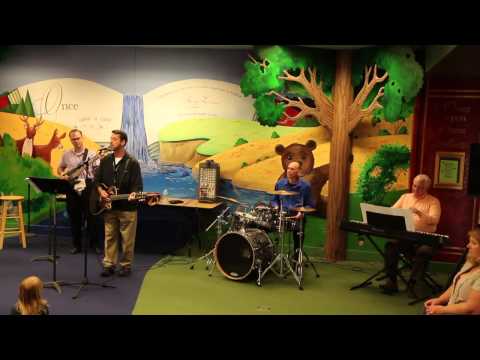 View more Grand Opening photos
The Kids Library also boasts the designation of Family Place Library™, one of 28 libraries in seven states to receive that honor last year thanks to a grant from the Institute of Museum and Library Services. The grant focuses on developing early literacy skills during the most impressionable years of a child's life, birth–5 years. It stresses the importance of parents as the child's first teacher. The Kids Library is the perfect place for family time, storytime and just to hang out and have fun with others.
Take the Library Wherever You Go
Our customers have come to expect ebooks and digital audiobooks from their library, and statistics show they're loving stories in those formats. So, this year we expanded our digital offerings to an entire suite, now including magazines, TV shows and movies. No surprise, customers were thrilled they could enjoy free entertainment on the go. Check-outs of our digital content increased nearly 75 percent in the last year. Now that customers can check out all those formats without stepping foot in the library, it comes as no surprise that traffic to our website increased too — by nearly 25 percent.
Check-outs from the library's entire collection peaked at about 2.6 million during the recession in 2009, then took a dip before climbing back up to about 2.3 million in 2013. Our move to provide customers the media they want in the formats they want them in is helping pave the way for another record-setting year in the future. And, our outreach efforts in the community are also future-proofing the library.
In the story of library service outside the building, it's the purchase of a new bookmobile that makes headlines. And who wouldn't get excited about a brand new bookmobile with a brand new collection of books and DVDs?! People who hop aboard the new bookmobile may not know it's possible in large part to Capitol Federal®, our literacy partner, and the Capitol Federal Foundation, which gave $200,000 to the cause in '13. We'll tell you more about this new library on wheels, but that will be an investigation for 2014. And, it may require Dr. Watson.
About 100,000 people a year use the Bookmobile to find their books, movies, music or magazines — 294,690 to be exact. It was an increase of 8 percent over last year. And it's only going to get better.
Partnerships play a huge role in our ability to keep you connected to your library where it's convenient for you. We welcomed a new partnership and new service opportunities with Shawnee County Parks and Recreation. Since we installed computers in the community centers last May, they have been used 20,281 times. In October, the library began offering programs, ranging from computer skills to resume writing to knitting.
Our Red Carpet staffers bring books and other items — now including iPads — to senior citizens who are unable to come in for a visit on their own. Red Carpet staff visit nearly 50 senior living communities. That's so cool!
And our Outreach Storytellers serve 51 preschools a year, spreading a love of reading to the 0-5 year population.
Library @ Work continues to deliver the library to employees of Stormont Vail, Hills Pet Nutrition and Westar Energy. This growing program got more than 3,000 library items in the hands of Topeka professionals last year.
The Great Gatsby went for a ride all over Topeka with copies of The Big Read book available on Topeka Metro buses.
The Big Read
With great art, events and, of course, fashion, we roared back into the 1920s as the community united in reading The Great Gatsby through a $12,800 National Endowment for the Arts' The Big Read grant. The Great Gatsby was the library's fifth Big Read. This community reading program encourages everyone to read the same book and talk about it. 2,775 people attended 32 programs in 39 days, with about 500 attending The Great Gala at the Great Overland Station. Enjoying literature also includes attending music, history and art programs.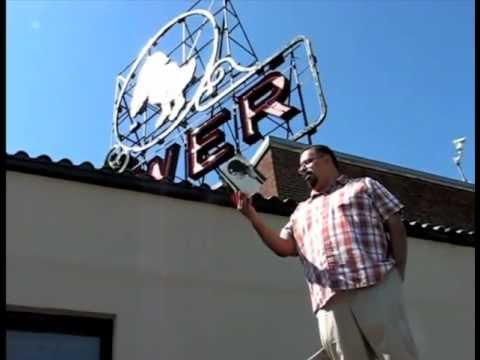 77,970 Hours of Summer Reading
Summerfest provides children experiences that stimulate their imagination and creativity. With 474 hours of summer programming offered in June and July, that's a lot of opportunity for creativity and learning. One very visual part of Summerfest is the annual art exhibit for children at the Alice C. Sabatini Gallery. Creepy, crawly bugs were climbing the side of the building (on a banner) and all over the gallery. This creepy-cool exhibit, aptly called Unearthed, saw an almost record-breaking attendance of 7,206 people.
Every year Summerfest, our summer reading program, is better than ever, and 2013 was no exception. The community read 77,970 hours in eight weeks!
135 infants completed the program
2,667 kids read to at least 12 hours and received a book
544 teens read to at least 12 hours and received a book
335 adults read at least 8 books
Kids do this because it's fun, but more importantly we all know that kids who read or are read to reduce the risk of summer setback, the loss of reading skills that happens when school is not in session.
Authors Galore!
The library continues its trend of creating content for you. Many readers picked up a homegrown historical mystery. Check out SpeakEasy, our second community novel penned with the help of 20 local writers. It was published in serial form on tscpl.org, then made into a book. You can even listen to the audiobook; each chapter is narrated by the author who wrote it. Plans are in the works for another novel, so keep an eye on tscpl.org.
Last year, as per usual, we welcomed so many authors we lost count — including 60+ authors who presented atour first-ever local author fair!
A favorite with children — for his groovy songs and his red shoes — Pete the Cat walked into the library last fall, and 600 people followed suit to see Pete and hear author Eric Litwin speak. Litwin had the crowd movin' and groovin' to his songs and stories.
Teens found out what it's like to have a pet bear from author Ben Mikaelsen, who also spoke at the library last fall. He packed the house with teens as you can see from the video below.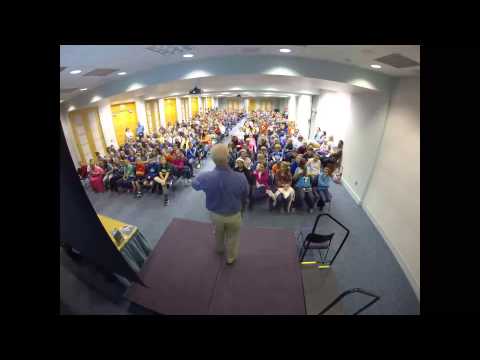 | | |
| --- | --- |
| Cardholders | 85,697 |
| Visitors to Library | 793,335 |
| Overall Check-Outs | 2,290,504 |
| Check-outs on Bookmobile | 294,690 |
| Visitors to Bookmobile | 100,000+ |
| Reference Questions Answered | 277,471 |
| Unique Visitors to tscpl.org | 593,237 |
| Digital Downloads | 140,634 |
| Program Attendance | 84,589 |
| Big Read Program Attendance | 2,775 |
| Facebook "likes" | 11,546 |
| | |
| --- | --- |
| Taxes | $15,827,672 |
| Fees & Reimbursements | $939,395 |
| Contributions | $433,506 |
| Grants & State Aid | $85,955 |
| Investment Income | $81,399 |
| Total | $17,367,927 |
Salaries and Benefits
$11,143,419
Other Operating Expenses
$2,060,209
Debt Service
$1,680,785
Library Materials
$1,709,460
Equipment &
Capital Improvements
$843,247
Programming & Events
$130,324
Total
$17,567,444
As planned and budgeted, the library used the cash balance carried forward from the prior year, because of the delay in increased health insurance costs, to help fund these employee benefits in 2013. Thus, the total expenditures are greater than the total revenues received in 2013.